WELCOME TO
J&J LA CASA DEL HABANO CABO
CLASSIC CIGAR & MOJITO LOUNGE
Premium Services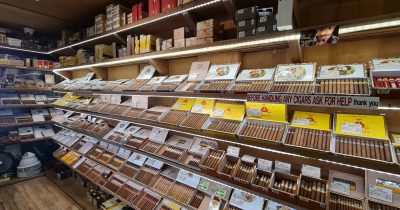 J&J's is La Casa del Habano in Cabo San Lucas and we have the Best Selection in town.
Always making sure our Cigars are kept in perfect conditions 70/70 (temperature and humidity) 24/7/365 days of the year, keeping our cigars always in top conditions.
BIG PAPA
Mojitos & Margaritas
Enjoy the Best Mojito in the World!!
So come to our shop, relax, meet new friends and enjoy our Big Papa Mojitos with your favorite Cuban Cigar at J&J Cabo (La Casa del Habano Los Cabos) just down the street where Hemingway's use to be.
CHEERS!!!
TASTING'S
Mezcal and Tequila
At J&J's we specialize on artisan Tequilas, produced in small distilleries bringing out the best quality and flavor.
Our tastings consist in ½ oz shots, so you'll have the chance try several tequilas without going "loco".
LIFE IS SHORT
PLEASURE IS FOREVER
Anthony K. Mootry
2023-07-12
Very friendly and knowledgeable staff. My Spanish is horrible, so thankfully the gentleman who helped me spoke English. I will definitely be back my next time in Cabo!
Milan Hernandez
2023-06-28
Great Mojitos! My boyfriend and family really enjoyed their cigars as well.
Esteban Pelaez
2023-06-25
Muy buen servicio y calidad de puros.
Jimmy and the guys were awesome. Great drinks and great cigars! Very comfortable and relaxing smoking lounge. Definitely will be back.
Ricardo Rivera Lira
2023-04-12
Los mojitos están muy ricos
LEGIT CUBAN CIGARS Figured it's best to put that up top. These guys were great and super accommodating. Came in town on a cruise and had very limited time to hop over to their store and make it back but they made my stop inside very quick and painless. They had no qualms with me inspecting the boxes and checking the Habano website for authenticity. Very knowledgeable and friendly staff. Will definitely be back for more boxes next time I'm in town!
Truly legit Havanas. The best and most legitimate cigar shop in the area. They also have great drinks. A definite must for cigar aficionados.
A MUST VISIT BAR FOR CUBAN RUM, TOP SHELF TEQUILA & AUTHENTIC CIGARS! J & J is a must visit bar! They also have a fabulous selection of authentic Cuban cigars. Juan Carlos is a master mixologist. My mango margaritas are the best I have ever had in Cabo. They are known for theit Cuban rum, so hubby enjoyed a rum old fashioned. In addition, to this, there is a spectacular full line of excellent tequilas and spirits which you can try by the shot etc. This is not just a bar......it is an adventure and a wonderful way to spend an afternoon. Juan Carlos is very informative and an all around great guy. Jimmy adds to the fun atmposphere. Thanks for a great afternoon!
Excellent Selection of Legit Cubans Yep, they are expensive. Obviously cheaper to buy out of Hong Kong or Switzerland from home--but you can't do that on vacation. So if there's something you like or are looking for--odds are they have it. I had a great R&J Short Churchill and Partagas No.2. Both were about $50 USD. They have a fantastic bar which I did not have time to use this time.
Handmade Cocktails Best margarita's in town. We went back many times per day just to have Jimmy make us drinks. No premixing here. Best drinks in town. don't drink the cheap stuff get your mojitos here. This is not an add I'm not getting paid, I have not relationship with this guy. But I kept going back to this shop 4x to get my drinks passing all the other cheap bars in town. You will not be disappointed.
Came for the Cigars and Ended up at the Bar! Must visit! We have come here for a few years to purchase Cuban cigars. This time we stopped in for the drinks and ambiance! We met Juan Carlos, who is a fabulous guy and a great mixologist! He told us the history of the bar and it was very interesting. He was also extremely knowledgeable about the Cuban rum and the various tequilas! The "Papa" mojito is a 32 ounce drink made with fresh herbs and cuban rum and only $10. The mango margarita was the best I ever had in Cabo and was $8. Juan Carlos takes so much pride in his job, that every single drink is a work of art. We came back three times in one week and also had the pleasure to meet the owner, Pepe! FYI, the cuban cigars are high quality as is the liquor! Enjoy a cigar and cocktail in the adjoing cigar lounge! Great experience.

Best Mojitos We were in the area booking an excursion while visiting Cabo. A few ladies were walking down the street and we couldn't help but notice their drinks! We immediately asked them what they were and where they got them from. They raved so much about them that we had to try them out for ourselves. We had an amazing experience! The mojitos did indeed stand up to their reputation. And this place will be a favorite stop whenever we visit Cabo again! It comes highly recommended. The best part is, while it's near the water, the prices are fair and well worth a visit.

Great mojitos An amazing bar with great mojitos! Also an amazing tobacco and tequila store. Definitely a must try spot, the staff are super nice too. Definitely will be back again.

Best Mojitos in Cabo Ok i'm a cigar guy and this is my mecca pilgrimage for cuban cigars and mojitos while i'm in cabo Due to the CCP flu one can no longer smoke or drink on premise 🥲
So we walked across the street to a bench in the shade and enjoyed our mojitos and cigars while our wives shopped for jewelry …..nice pleasant afternoon
Fine Cigars If your looking for a good cigar in CABO this is the place. Very professional, knowledgeable and a great selection.
They will answer all your questions about cigars if your not a avid cigar person looking for that special gift.